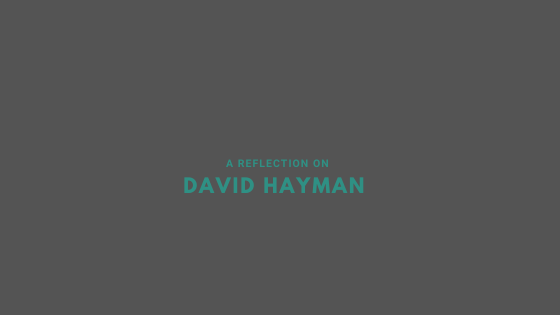 A reflection of David Hayman
Words. I can generally find them in abundance. Not now. Not after hearing about the sudden loss of our colleague, David Hayman.
 David and I weren't personal friends but he was a friend of CMI. Once a year we'd reach out and ask if he had the time to spend an hour or two to meet with emerging artists or managers. He said "yes" every time. David always left a lasting impression when he visited. To say his vocabulary was colourful is an understatement. He exuded passion and shared his knowledge generously and with humility. He was accessible and always interested in discovering new artists and interesting music. We heard from David as recently as last month. The Guild of Music Supervisors Canada  was hosting  Virtual 1:1 meetings. He asked if we could spread the word about the chance for a 30-minute online face-to-face with Canada's top music supervisors. "What an opportunity," I responded to him. On behalf of the CMI family and community, I want to express our gratitude for all of the time and kindness David shared with us. I would also like to extend our heartfelt condolences to his family, SUPERGROUP co-workers and friends.  As a tribute to David, I would like to "sync" this post with Rodney Crowell's "Still Learning How To Fly". At a time of terrible loss, this song reminds me to be grateful and to seize the time and moments afforded by life. Maybe, it'll do the same for you. 
I'm out of words. 
Goodbye, David. 
Rodney Crowell – "Still Learning How To Fly"