Looking to book Live Shows?
 CMI considers our Live Events division to be an extension of our ongoing mentorship.  We act as CURATORS with the main goal of connecting artists to paid performance opportunities.  Connecting artists with paid performances provides opportunities for audience development, networking and teambuilding, and improving business sustainability.  
Looking to book Live Streams?
 Since COVID-19 hit the live performance industry, we have shifted to virtual performances.  In total, we've curated over 162+ live performances virtually, while paying artists over $346,200 in performances fees, and paying techs/creators another $212,266 for their services during the pandemic.
CMI Live Events department can help connect your organization with the right artists for your public, private, or livestream events.  If you'd like to know more or interested in finding talent for your next event, let's connect!
CONNECT WITH CMI
$1 Million
Fees Paid to Artists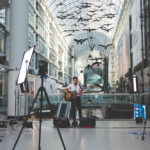 "CMI are able to access a very diverse roster of emerging independent talent inclusive of all genres of music. Their partnership with Coalition Music also provides access to higher-level artists when the need arises."
"We confidently recommend CMI and CM as partners to secure talent, whether it's for ongoing programs, a short-term series or a single event."