LOOKING TO PROGRAM LIVE music PERFORMANCES?
CMI Live acts as a CURATOR with the main goal of connecting event programmers with artists of all genres across Canada.
CMI Live has curated over 600 shows. Our combined audiences total over 1.5 million people.
virtual PERFORMANCES
Since COVID-19 hit, we have curated over 175 virtual events across Canada. These include pre-recorded and live streamed events.
CMI Live has paid over $650,000 to artists and content creators. Additionally, we have attracted over 3.2 million online audience views.
ARTISTS looking for performance opportunities?
CMI Live is an extension of our professional development programs and ongoing mentorship. We connect artists, CMI-supported and many others, with paid performance opportunities.
Past programs include:
TD Music at Union Station
TD Music Connected Series
Play the Parks
The Great Hall Music Series at Union Station
Union Beats
Yonge-Dundas Square "Indie Fridays"
Evergreen Brickwork's Winter Village
Oxford Music Program
National Indigenous Peoples Day
… AND MANY MORE!
Music Programming Services
CMI Live offers customized curation for every type of event. No matter how small or large we have you covered with our dedicated curation team and in-house A/V equipment and staging. For further details about how we can help curate your next event, please click below!
CONNECT WITH CMI LIVE
$1 Million
Fees Paid to Artists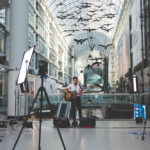 "CMI are able to access a very diverse roster of emerging independent talent inclusive of all genres of music. Their partnership with Coalition Music also provides access to higher-level artists when the need arises."
"We confidently recommend CMI and CM as partners to secure talent, whether it's for ongoing programs, a short-term series or a single event."